Electrostatic Characterization of Planar Transformer for High Density DC/DC Converter 
Posted on the 17th November 2022
Internship proposal (6 months)
Reference GRG032022
Internship supervisors
Mitsubishi Electric R&D Centre Europe : Guillaume REGNAT, Researcher, Power Electronic System (PES) division, Design and Integration Technologies (DIT) team.
Overall context
Mitsubishi Electric R&D Centre Europe (MERCE) is the European R&D center from the Corporate R&D organization of Mitsubishi Electric. The aim of our center is to provide advanced R&D support to the Japanese R&D centers and to the business units of Mitsubishi Electric Corporation.
Located at the heart of Europe's leading R&D community, MERCE includes two entities: MERCE-France and MERCE-UK. MERCE conducts R&D into next generation communication systems and technologies related to Energy and Environment. Design of next generation power converter is a major activity in the Power Electronic System division (PES), being part of MERCE-France.
Internship subject
The Design and Integration Technology group is investigating new concepts in the field of Heterogenous Integration Techniques. Both active and passive devices of a converter are subject of intense research activity in the aim to support the Mitsubishi Electric Group to develop the next generation of high-performance converters (AC/DC, DC/DC or DC/AC).
High performance isolated DC-DC converter are necessary in various applications such as automotive (On Board Charger, Auxiliary Supply), railway or aerospace. The main advantage of using planar passive component (transformer or inductor) is to enable a highly compact solution with a very high efficiency. An example of isolated DC-DC converter based on magnetic Planar components (L and T) is shown in Figure 1. An overview of a Planar cores with PCB winding is given in Figure 2.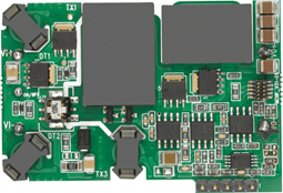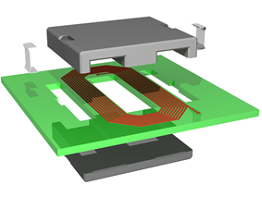 A major drawback of the planar transformer technology is related to high parasitic capacitive effects which can degrade the performances. The purpose of the internship is to develop an analytical model to extract the parasitic capacitances of the transformer during the design stage. This model will be used in a simulation of the converter (Figure 3). Furthermore, the model will be validated with experimental characterization. The investigations will be based on the prototype of a Planar transformer developed at MERCE for a MHz range DC-DC converter.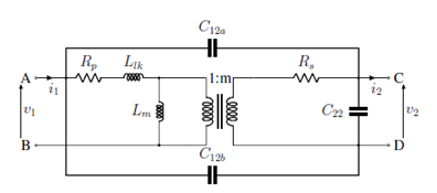 Detailed objectives / organization
The internship will take place in MERCE, in collaboration with L2EP laboratory (in Lille) and entail the following tasks:
. Bibliographic study of parasitic capacitance modeling for high frequency transformer
. Analytical model development and application to MERCE's planar transformer prototype
. Experimental characterization of MERCE's planar transformer electrostatic behavior and comparison with analytical model developed previously
. Build-up of the LTspice model and simulation for the Planar transformer
. Research Report :
o Parasitic capacitance analytical model building
o Parasitic capacitance extraction with experimental characterization test bench
Prerequisites
. Engineer/Master level student with interest in research;
. Competences in Electromagnetism;
. Familiar with analytical modeling (mathematics equations solving);
. Interest in solving physics problem applied to industrial applications;
. Autonomous and stringent;
. English: spoken / written.
Duration: 6 months
Period: from Feb/March 2023 (possibility of flexibility, depending on schools' internships periods)
Contact
Magali BRANCHEREAU (jobs@fr.merce.mee.com) + Guillaume REGNAT
Thank you to provide us an application letter and your CV mentioning the reference of the internship.
The signature of an Internship Agreement with your school is mandatory.